Scheduled tasks
major version 1.1.0, relase date 2016-12-15
We are happy to announce new major version of datakick module.
This release is all about cron and scheduled tasks.
Using this new feature you can generate your XML files on regular basis. Every XML template can have multiple schedules, each can have different settings like output filename, parameter values etc. Generated files can be stored inside any writable directory on your server, uploaded to FTP or stored in Amazon S3 cloud.
Main features
unlimited number of scheduled tasks
each schedule provides parameters for xml generation, such as Language
customizable schedule interval - your scheduled tasks can run hourly, daily, weekly, monthly or even once a year
save xml files to folders on your webserver
upload xml files to FTP server
upload xml files to Amazon S3 cloud
parametrized file name - for example /categories/{year}-{month}-{day}/category.xml will create file /categories/2017-01-01/category.xml
Use cases
pre-populate XML feeds to increase response time
schedule regular data backup
Screenshots
Cron settings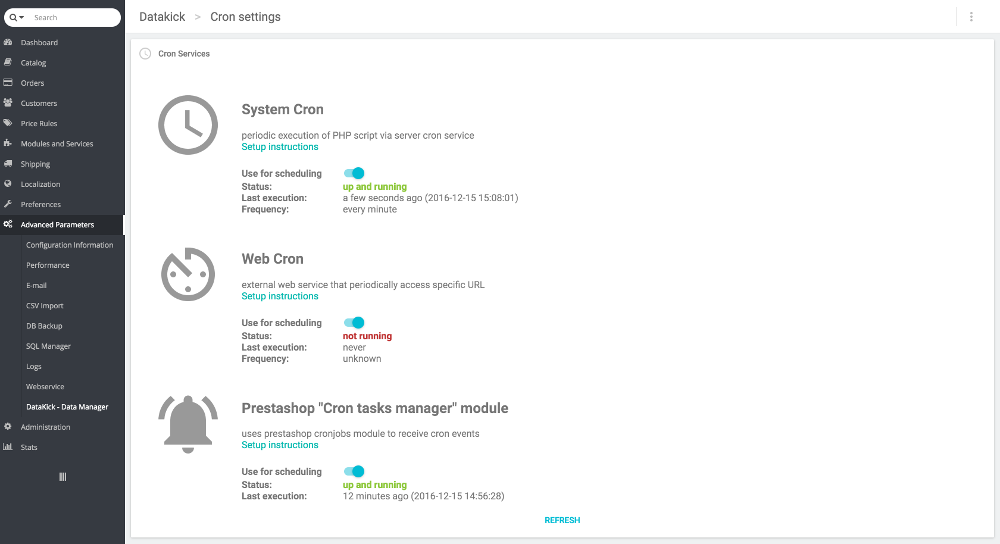 Schedule form